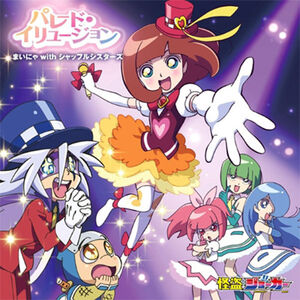 Parade Illusion (パレード・イリュージョン, Parade Illusion?) is the ending theme for Seasons 1 and 2, performed by Mainya with Shuffle Sisters. The single album was released on October 29.[1]
Full Version
Edit
マジカル・マジカル マジカル・マジカル
"いただきま〜〜〜す!!"

愛 それは夢 夢 それは熱
熱 それは謎 We steal a treasure!

恋 それはなぜ? ねぇまだ疑問
でも突撃よ Let's join forces!

世界中へ伺います ボンジュール♪
「スペインでは?」「ブエナス・タルデス♪」
聞いてみようよ ヴヴザプレコマン? 「シャッフル・シスターズ」
そのイメージ 膨らむ
ありがとうでつながる メルシー
イギリスでは?「サンキュー」

奇跡を起こせ そうイリュージョン 遥かな空へ
七つの海 繋いで行こう 行進だ!
迷宮の先 息をのむ ラビリンス (1・2・3・4)
どこでも 必ず たどり着く(ハーイ・ハーイ・ハイハイハイ!)
油断はダメだよ? ごきげんよう☆


雲 つかまえて 薔薇に変えたら
キミにあげよう We steal your heart

胸 ときめいて WakuWakuしてる
そう夢中なの Let's fly to the sky!

美味しそうなシュークリーム ボナペティ♪
「イタリアでは?」「ブオナッペティート!」
ラララ 準備はいいかな? シャントン!「ララララ」
その歌声 重ねて
また明日でつながる ア ドゥマン
ノルウェーでは?「ヴィー・セース・イ・モーン」

夜空を飾る 星のような 無限の愛で
この手と手 繋いで行こう 行進だ!
困難の先 息はずむ ユートピア (1・2・3・4)
いつでも 絶対 あきらめない(ハーイ・ハーイ・ハイハイハイ!)
狙いをさだめて
シャボン・スプラッシュ☆

1人だけじゃつまらない ことだって
広い世界 飛び出してみて 前進だ!
迷宮の先 息をのむ ラビリンス (1・2・3・4)
どこでも 必ず たどり着く(ハーイ・ハーイ・ハイハイハイ!)
油断はダメだよ? ごきげんよう☆
References
Edit
Ad blocker interference detected!
Wikia is a free-to-use site that makes money from advertising. We have a modified experience for viewers using ad blockers

Wikia is not accessible if you've made further modifications. Remove the custom ad blocker rule(s) and the page will load as expected.