7. The Island of the Evil Scarlet God
Season 1, Episode 7
Staff Credits
Air Date
November 24, 2014
English Air Date
August 27, 2016
Director
Shuuji Miyahara
Storyboard
Takaaki Ishiyama
Animation Director
Masayuki Fujita, Tadayoshi Okimura
Episode Info
Adapted Manga Chapters
Volume 4, Chapter 3
Treasure
Scarlet Heart
Episode Nav
Previous
Next
Episode 6
Episode 8

Today's Advance Notice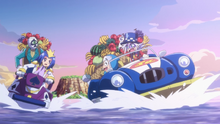 The Island of the Evil Scarlet God
(

深紅の邪神島

Shinku no Jashin Shima

?

)
is the seventh episode of the first season of the
Kaitou Joker
anime. It was first broadcasted on November 24, 2014.
Blue sea and white clouds! Joker and Hachi take a tropical heist to go after a gem called the Scarlet Heart. Legends say that it once belonged to the island's great king. There's an old stone tablet in the village with a riddle that will lead to the treasure.
Major Events
Edit
General Manbou is introduced.
Road Joker is shown to be able to traverse water.
Tricks Introduced
Edit
Joker pretends to be killed by Spade in order to have Manbou confirm whether or the statue was a trap.
The stone tablet looks entirely different than what it looks like in the opening. The tablet was brown around the edges and the small circle was red. The tablet in the episode was the same color and had no variation.